Our Volunteers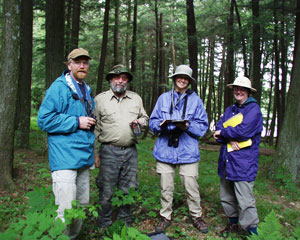 We cannot thank our volunteers enough. Without these dedicated citizen scientists we would not have this important long-term dataset that has been used extensively by scientists, agencies, and land managers to better understand and conserve breeding bird populations in our northern forests.
Since 1987, more than 600 volunteers have participated in the Nicolet National Forest Bird Survey. During recent years, 60-100 bird enthusiasts of all levels gather at the headquarters on Friday evening for the organizational meeting. Each participant is assigned to a group which includes at least one expert in bird song identification. Other members of the group contribute to the process by working as timekeeper, or audio recorder operator. Every group includes individuals who are experienced with the methods of the Bird Survey.
Some of Wisconsin's best-known birders have taken part in the Bird Survey, and many of the long-term participants have gained a very high level of expertise in bird identification in northern Wisconsin. The list below includes all Bird Survey participants recorded between 1987-2012. If you have participated but your name does not appear on this list, please contact us to be added. Group experts are identified with an asterisk (*).
Tara Abfalter
Lynn Ackley*
Ron Ackley*
Jean Adams
Kathleen Adams
Susanne Adams*
Carol Anderson*
Mike Anderson
Scott Anderson*
Tim Anderson
Herbert Arndt
Ryan Atwater*
Tom Babcock
Carolina Bacelis
Bruce Bacon
Cindy Baeirl
Peter Baeirl
Steve Ballard
Quan Banh
Sylvia Barbarich
Maria Barlow
Amanda Barnes
Dave Barnhill
Dan Barr
Betsy Bartelt
Mary Basche
Adam Baucknecht
Angela Bauer
Jeffery Baughman*
Jim Baughman*
Matt Baumann
Peter Beairl
Richard Beier
Stephanie Beilke*
Jeff Bell*
Kris Belling*
Lindsey Bender
Barb Bereza
Betty Bereza
George Bereza
Martin Bergo*
Joan Berkopec*
Tim Berkopec*
Maureen Birk
Charmaine Bishop
Riana Bishop
Jane Blameuser
Bethany Blicharz
Erin Blum
Maria Bode
Dolly Bohm
Don Bohm
Dave Bonham
Laura Borelli
Peter Borgo
Chuck Bosley
Al Boss
Paul W. Bowman*
Suzanne Bowman
Richard Boyle
Cory Braastad
John Braastad*
Sue Braastad
Janet Brehm
Steve Brick*
James Broetzmann*
Kevin Bronson
Bill Brooks*
Dave Brownlie
Elaine Bruehl*
Alicia Brunner
Pat Brust
Brianna Bruvold
Marjory Brzeskiewicz
Maxine Burns
Stuart Burns
Sue Burns
Ted Burns*
Victoria Burton
Joe Butsick
John Byrne*
Rory Cameron
Joan Campbell*
Richard Campbell
Cheri Carbon
Donny Carlsen
Fairbank Carpenter
Lynne Carpenter*
Patrick Cassidy
Tracy Cassidy
Phil Chandoir
Jim Check
Dave Chrisman
Hazel Chrisman
Jessica Chrisman
Joshua Chrisman
Marty Chrisman
Tim Christianson
Cathy Chybowski
Dominic Cleereman
Greg Cleereman*
Kate Cleereman
Louise Clemency
Janine Clemmons*
Dave Conger
Diane Cooper
Cristi Corey
Father Corey
Kathryn Corio
Sue Culinski
Noel Cutright*
Mari Dallapiazza
Jennifer Damon
Ken Damro*
Isaiah Dantoin
Josh Dantoin
Phoebe Dantoin
Selene Dantoin
Tim Dantoin
Kathy Dax
Chantelle Delay
Jane Denis
Alyssa DeRubeis
Craig Destree
Scott Dibble
Andy Dickerson
Rachelle Dickerson
Denise Diederich
Dale Dierauer
Mark Dilly
Lisa Dlutkowski
Deahn Donner-Wright
John Donner-Wright
Matt Dornbush
Chris Doyle
Bryce Dreeszen
Paula Dreeszen
Roy Droste
Dale Druckery
Bob Dumke
Shawn Dunlap
Lenore Dunlop
Lisa Eagles
Herron Eckstein
Christy Edde
Jerry Edde*
Jerry Ehlke
Ron Eichhorn*
Karin Ellestad
Bob Ellingson
Don Elsing
Carol Emerson
Grace Engel
Eric Epstein*
Carolyn Erickson
Laura Erickson
Ashley Fehrenbach

 
 
Mark Feider*
John Feith*
Brian Feldner
Jill Fermanich
Kevin Fermanich
Lydia Fermanich
Wes Fermanich
Maureen Ferry*
Gary Fewless
Terra Fewless
Joanne Finnell
Bob Firary
Elizabeth Fischer
Steve Fischer
Helen Fitzgerald
Carrie Flashpohler
Dave Flashpohler*
Bridger Flory
Joel Flory
Sage Flory
Suzanne Flory
Anita Foss
Fred Fouse
Brian Francois
Jeffery Freye
Denise Friedrick
Elaine Friedrick
Roland Friedrick
Charles Frisk*
Joyce Fritz
Roger Fritz
Joe Froelich
Barb Gajewski
Sharon Gaskill
Warren Gaskill
Wilson Gaul
Mary Gennerman
Heather Gentry-Nimmer*
Anne Geraghty
Erin Giese*
Scott Giese
Juliet Gifford
Amanda Ginithan
Carol Goegeline
Pat Goggin
Karen Grade
Joan Grant*
Janet C. Green*
Dennis Greeninger
Robert Gremley
Shirley Griffin*
Mike Grimm*
Ed Grosch
Jerry Grosskreutz
Aaron Groves
Chelsea Gunther
Caryl Gurski
Jordon Gust
Carol Gutsch
Chad Gyrion
Joan Haag
Jeni Haase
Tommy Hackett
Dennis Haen
Vanessa Haese-Lehman
Don Hagar
Kari Hagenow*
Tyler Hagenow
Christina Hall
George Hall
Chris Hamilton
Don Hanbury
Betty Harriman*
Tina Harrison
Elizabeth Hartman
Cliff Haskins
Mike Hathaway
Matt Haugen
James Hayward
Brian Heeringa
Samuel Heim
Joyce Henkel
Reginald Henkel
Brian Henrickson*
Jeff Herrett
Jeanne Heuer
Nathan Heuer
Jan Hewitt*
Kristin Hill
Andy Hinickle
Laurel Holgerson
Bill Holton
Vert Holzen
Mike Houser
Amanda Hover
Bob Howe*
Connor Wolf Howe
John Howe
Mark Howe
Teresa Howe
Abbigail Hoye
Jeremy Hubbard
Carl Hujet
Ron Hull
Lori Hutchins
Kathleen Hutton
Mary Jacobs*
Martin Jacobson
Jen Jaeger
Anna Jahns
Denise Janke
Kylie Janke
Steve Janke*
Jeanette Jaskula*
Elin Jaunzems
Leif Jaunzems
Mark Jaunzems*
Greg Jennings
Eugene Joerres
Laura Joerres
Lori Johansen
Susan Johansen
Aaron Johnson
Emily Johnson
Gareth Johnson
Karen Johnson
Larry Johnson
Wendel Johnson*
Marjory Johnston
Jory Jonas
Lewis Jones
Tamara Jones
Dan Joppe*
Amy Joswick
Kathy Joynt
Tim Joynt
Emmet Judzewicz
Amanda Jungkuntz
Tony Kalenic*
Sandy Kallunki
Fran Kaminski
Ada Karow
Erwin Karow
Sandra Kasik
Joe Kastenholz*
Bob Kavanagh
Kay Kavanagh*
Matt Kaylor
Joel Kempfert
Michelle Kesselhon
Cynthia Kettel
Peter Kiefer
Barb Kieffer
Jan Kippenhan
Julie Kirpitis*
Jeff Klonowski
Paul Kosir
Cliff Kraft


 
 
Max Kraft
Sue Kraft
Tom Kraft
Kaylene Kramer
Rhonda Kranz
John Krause*
Steve Krings
Tony Krohn
Mandi Krueger
Clara Kubisiak
John Kubisiak
Neal Kuchery
Greg Kuhr
Cecilia Kurtzweil
Gregg Kvaley
Lisa Lacobe
Jesse Landwehr
Andrew LaPlant
Sharon Larson
Jake Lasilla
Sarah Lawrence
Tim Leahy
Jeehye Lee
Rebecca Leighton
Gerald Lemerond
Laura Lesperance
Nick Lesperance
Bob Leuckel
Courtney Lewis
Ron Leys
Lennie Lichter*
Mike Lietz
Sue Lietz
Vanessa Limon
Francis Locke
Louis Locke
Tere Locke
Stephanie Loehr
Carol Long
Katie Loss
Marion Loss
Margaret Lowery
Joanne Lund
Bonnie Lyon
Mike Malloy
Wendy Malveg
Jim Marrari
Alex Martin
Devany Martin
Josh Martinez*
Thomas Matthiae*
Cathy Mauer
Maureen McCloskey
Todd McCoy
Kathy McDonald
Peggy McGaffey
Jean McGovern
Helen McKean
Brendan McKeever
Peter McKeever
Sean McMahon
Patty McPhillips
Brad McRae
Ian McSweeney
Bob Mead*
Chuck Mead
Lisa Meagle
Vicki Medland
Paula Menting
Ruth Merrill
Dave Meyer
Nancy Meyer*
Wayne Meyer
Shiela Miara
Gary Milanowski
Martha Milanowski
Christine Miller
Mike Miller
Nick Miller*
Pamela Misoni
Steven Misoni
Steve Mitchell
Janet Mizzi
Denise Mooren
Tim Mooren
Tom Mooren
Anne Moretti
Tom Moris
Vince Mosca
Scott Moser
Sue Moser
Jon Motquin*
Tom Motquin
Mark Naniot*
Eric Nell
Joshua Nemec
Dave Newhouse*
Mary Newhouse
Jennifer Nieland*
Kate Niemuth
Nick Nikolic
Jackie Nooker
William Norris*
Eric North
Richard Noske*
Michelle Nowak*
Lynn Nuthals*
Sanny Oberhauser
Marj Olencki
Dave Olsen
Chris Olson
Denny Olson
Jessica Page
Kevin Palmer
Tanya Palmer
Dennis Panicucci
Thomas Panicucci
Linda Parker*
Nancy Parker*
Collin Parker-Krause
Tristan Parker-Krause
Tim Parletic
Robert Parsons
Megan Pasterski
McPhillips Patty
Andy Paulios*
Scott Pearson
Teresa Pearson
Michael Peczynski*
Brooke Peppey
Ian Perkins
Bill Perpich
Erica Pertile*
Louise Petering
Kurt Peterson
Lowell Peterson
Mark Peterson*
Ursula Peterson*
Kalyn Petty
Jean Phantz*
Frank Piraino*
June Platz
Kim Potarache
Ray Potter
Frieda Powell
Rosalie Powell
Dick Prus
Pat Prus
Beth Raboin
Robert Radtke
Kim Ramcharan
Paul Rasmussen*
Ron Rathmann
Ann Ray
Vernon Ray
Bill Reardon*
Mike Reed*
Molly Reed
Sean Reed*


 
 
Althea Reetz
Paul Regnier
Steve Reid
Jon Reisenbuechler*
Rhonda Reisenbuechler*
Shondi Reynolds
Trygve Rhude
Robert Richard
Cory Richardson
Nancy Richmond*
Steve Richter
Kharis Riedinger
Larry Riedinger*
Tony Rieth
Katherine Rill
Russell Rill
Tony Rinaldi*
Winona Ritchie
Ellie Roark
James Robaidek
Jeremy Robaidek
Jon Robaidek
Marlene Robaidek
Mikayla Robaidek
Wendy Robaidek
Sam Robbins*
Jay Roberts*
John Robinson*
Bill Roder
Benjamin Roe
Curt Rollman
Jean Romback
Sabin Rosenbaum
Zelma Rosenbaum*
Gordy Ruesch*
Jean Ruhser
Bob Ryan
Jennifer Ryan
Jenny Sadak
Cindy Sakry
David Sample* & family
Erica Sanders
Tom Schaefer
Kay Scharpf
Jared Schawnz
Kevin Schiebenes
Barb Schieffer
Kaysee Schlosser
Eddie Schmid
Jackie Schmid
Scott Schmidt
Jane Schneider
Todd Schneider*
Don Schnieder
Carl Schroeder
Thomas Schultz*
Wendy Schultz
Mark Schumacher
Molly Joy Schuonover
John Schwarzmann
Nick Seeger
Allison Shawe
Mariquita Sheehan*
Steve Shipe
Nicole Shutt*
Debra Siebert
Kay Simandl
Robert Simandl
Evelyn Simmons
Dick Simpson
Melissa Simpson
Adam Sinkula
Erica Sisel
Sue Smedley
Sara Smith
Tom Soulen*
Michael Spreeman
Roxanne Sprehe
Matthew St. Pierre
Dale Staege
David Staver
Michael Steck
Colin Steele
Katie Steele
Mark Steele
Ryan Steele
Yoyi Steele
Sue Stein
Ashley Steinke
Jack Steinski
Mike Stiefvater
Cindi Stiles
Zoe Ann Stinchcomb
Thomas Stock
Paul Strong*
Dorothy Summers
Elizabeth Summers
Juniper Sundance
Colleen Sutherland
Linda Swartz
Paul Sweeney
Aaron Sztzytko
Andrea Szymczak
Will Taylor
Jim Toth
Robert Tracy
Joel Trick*
Patti Trick
Dan Trofka
Chris Tucci
Gary Turk
Lucy Tyrrell*
Tom Underwood
John Van Den Brandt
Abrahm Ventura
Elaine Vincent
Jason Vittwork
Robin Vora
Audrey Waldo
Troy Walters
Jenna Walton
Kyra Walton*
Nick Walton*
Chloe Warpinski
Todd Warren
Jeremy Watrud
Jay Watson*
Laura Bratz Watson
Gary Wauters
Brian Wehausen
Edward Weidner*
Norman Weiland
Jesse Weinzinger
Doug Welker
Kurt Westebrook
Jim Weyers*
Jake Wickman
Katie Wieselman
Virginia Wiggen
Colleen Wisinki
Amy Wolf*
Mark Wolf
Peter Wolter
Chris Wood*
Tyler Wood
John Woodcock
Julie Woodcock
Alexandra Wrobel
Robert Yaeger
Roger Yaeger
Mike Younkle
Ron Zabel
Gary Zimmer*
Heather Zimmer
Kristin Zimmer
Maria Zimmer
Olivia Zimmer
Elizabeth Zimmerman*
Libby Zimmerman
Andrew Zovnic*
John Zovnic