Survey Site 003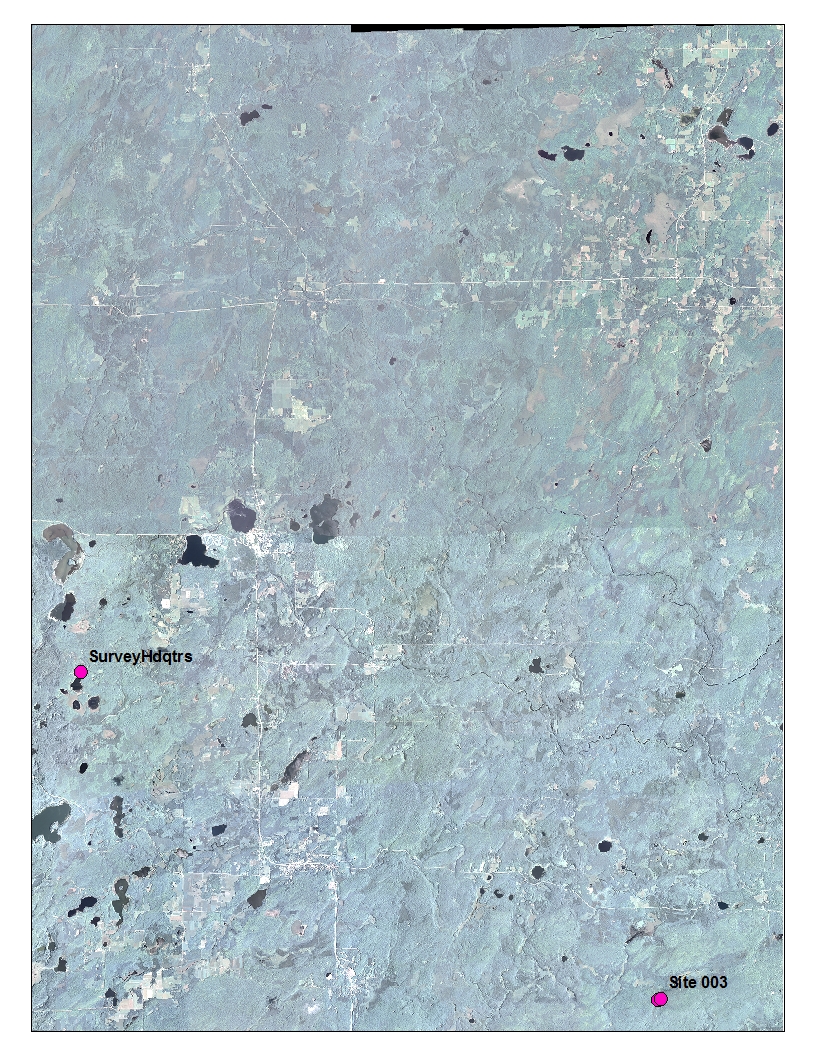 Click for interactive map
Survey Site Information
Directions to Road Marker: Sites 3 and 4 have same road marker, located next to '2671' sign on SE corner of intersection of 2141 and 2671 (2671 has stop sign).
Directions to Site: Site is 0.1 miles northeast on 2671, in a small constructed opening.
Habitat Type: Upland Opening/Savannah
Surveyor Comments: About half the site is aspen/birch.
Species Observed
| | | |
| --- | --- | --- |
| Species | Name | No. of Years |
| OVEN | Ovenbird | 12 |
| INBU | Indigo Bunting | 11 |
| REVI | Red-eyed Vireo | 10 |
| RBGR | Rose-breasted Grosbeak | 8 |
| CSWA | Chestnut-sided Warbler | 6 |
| AMRO | American Robin | 4 |
| BLJA | Blue Jay | 4 |
| BTNW | Black-throated Green Warbler | 4 |
| MOWA | Mourning Warbler | 4 |
| HETH | Hermit Thrush | 3 |
| UNWO | Unidentified Woodpecker | 3 |
| AMCR | American Crow | 2 |
| BAOR | Baltimore Oriole | 2 |
| BBCU | Black-billed Cuckoo | 2 |
| EATO | Eastern Towhee | 2 |
| GCFL | Great Crested Flycatcher | 2 |
| GWWA | Golden-winged Warbler | 2 |
| NOFL | Northern Flicker | 2 |
| SOSP | Song Sparrow | 2 |
| VEER | Veery | 2 |
| AMGO | American Goldfinch | 1 |
| BHCO | Brown-headed Cowbird | 1 |
| CEDW | Cedar Waxwing | 1 |
| CHSP | Chipping Sparrow | 1 |
| GTBH | Great Blue Heron | 1 |
| LEFL | Least Flycatcher | 1 |
| MODO | Mourning Dove | 1 |
| NAWA | Nashville Warbler | 1 |
| PIWO | Pileated Woodpecker | 1 |
| RTHU | Ruby-throated Hummingbird | 1 |
| RUGR | Ruffed Grouse | 1 |
| RWBL | Red-winged Blackbird | 1 |
| SCTA | Scarlet Tanager | 1 |
| WAVI | Warbling Vireo | 1 |
| WOTH | Wood Thrush | 1 |
| YWAR | Yellow Warbler | 1 |