Survey Site 029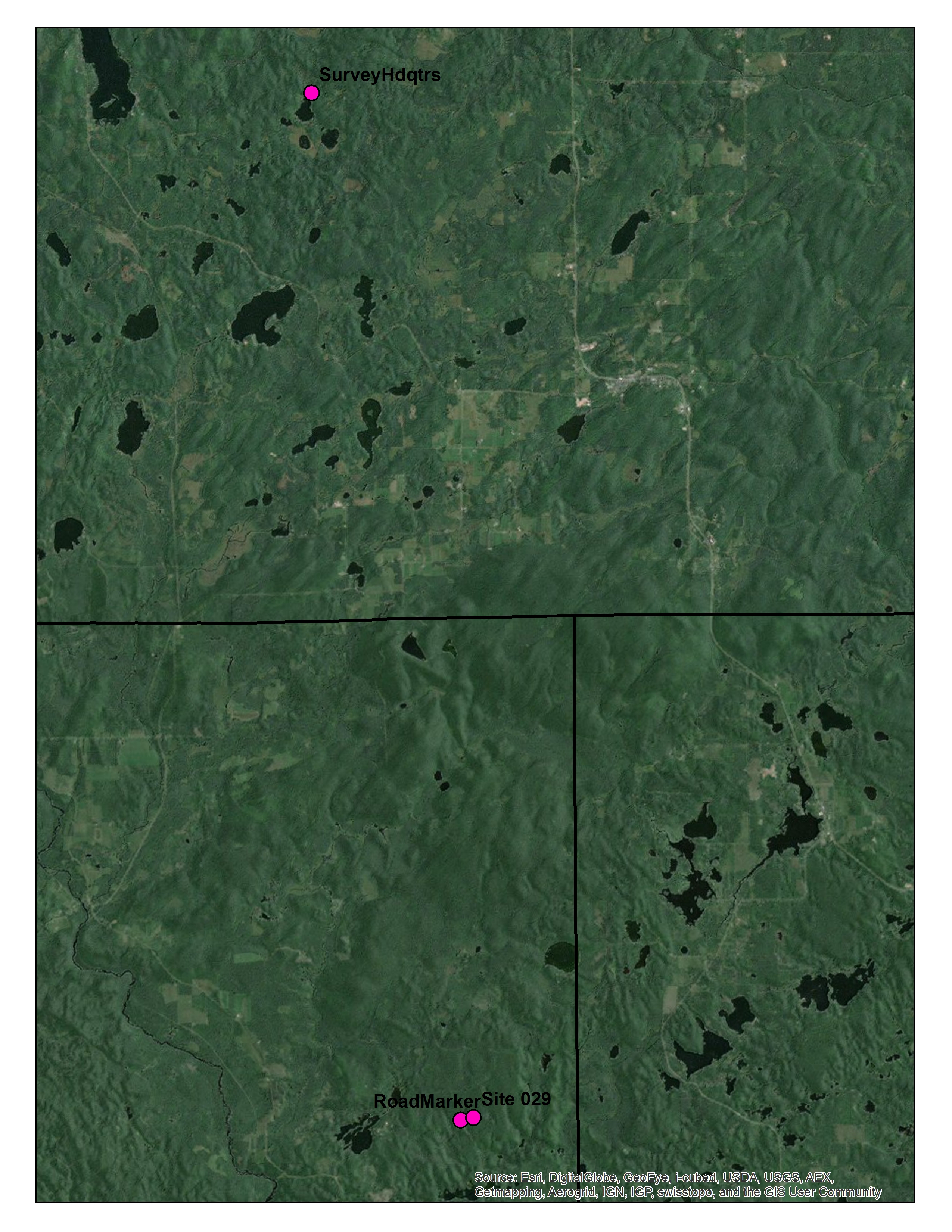 Click for interactive map
Survey Site Information
Directions to Road Marker:
Marker is on east side of 2336 (Rose Lake Rd), just N of intersection with 2120 (Rose Lake Drive). Carsonite post placed 5/31/2001 by faint "path" going east off of 2336.
Directions to Site:
Start on very faint deer trail (just N of 2120), walk 36 meters from 2336 to fork, then go east on right fork until path disappears. [Old: From marker walk 400 meters east along faint "path" (not found in 2005) just north of 2120.]
Habitat Type:
Aspen/S. Maple/Basswood
Surveyor Comments:
None.
Listen to audio clip recorded at this site.
Species List
| | | |
| --- | --- | --- |
| Species | Name | No. of Years |
| OVEN | Ovenbird | 12 |
| REVI | Red-eyed Vireo | 10 |
| BTNW | Black-throated Green Warbler | 7 |
| RBGR | Rose-breasted Grosbeak | 6 |
| BRCR | Brown Creeper | 4 |
| AMCR | American Crow | 3 |
| BLJA | Blue Jay | 3 |
| HETH | Hermit Thrush | 3 |
| AMRO | American Robin | 2 |
| CEDW | Cedar Waxwing | 2 |
| CORA | Common Raven | 2 |
| GCFL | Great Crested Flycatcher | 2 |
| INBU | Indigo Bunting | 2 |
| LEFL | Least Flycatcher | 2 |
| NOFL | Northern Flicker | 2 |
| WOTH | Wood Thrush | 2 |
| YBSA | Yellow-bellied Sapsucker | 2 |
| BBCU | Black-billed Cuckoo | 1 |
| BHCO | Brown-headed Cowbird | 1 |
| BTBW | Black-throated Blue Warbler | 1 |
| EAKI | Eastern Kingbird | 1 |
| EAWP | Eastern Wood Pewee | 1 |
| MODO | Mourning Dove | 1 |
| RUGR | Ruffed Grouse | 1 |
| SCTA | Scarlet Tanager | 1 |
| UNID | Unidentified Species | 1 |
| UNWA | Unidentified Warbler | 1 |
| UNWO | Unidentified Woodpecker | 1 |
| VEER | Veery | 1 |
| WITU | Wild Turkey | 1 |