Methods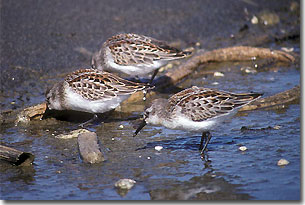 Each of the 12 survey sites to be monitored were selected based on one or more of the following criteria:
The potential of the site to be managed for shorebirds.
Past use by shorebirds during spring and fall migration (at least two decades of known shorebird occurrences).
Geographic location relative to other selected sites.
At each site, priority sampling periods are identified. The periods are usually 30 days long. Detailed descriptions of each site includes directions, permission needed, species and numbers likely to be encountered, and the survey protocol to be followed. A detailed map is also prepared showing the boundaries of the plot to be surveyed. A description of the habitats present is recorded and updated as necessary when major habitat changes occur, especially if they affect visibility of birds in the survey area. A local contact is also provided for each site.
During each priority sampling period, the overall objective of the survey is to estimate the average number of shorebirds present at the site. This can be accomplished with a single survey, or with several surveys. Survey times, however, must be chosen in advance, or at least independently of how many shorebirds are present at the site. Thus, conducting surveys because one knows that weather conditions have brought a large flight of shorebirds into the area would not provide a reliable estimate of the average number of birds present at the site during the survey period. Survey data are entered directly on the Wisconsin Shorebird Survey website.