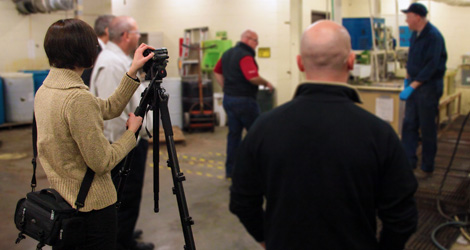 Photos and video allow an intimate look at an experience that might otherwise be missed. In terms of telling your story, it works.
Video/Photo Request Guidelines
The University Videographer/Photographer provides photo and video services in support of institutional marketing and communication, bringing a creative perspective to video and image capture of campus news, landscapes, programs and activites on location and in the studio.
Request Photo/Video Services
For videography/photography requests, please contact the University Videographer/Photographer, Daniel Moore, at moored@uwgb.edu.
Please Provide the following information in your request:
Event/Subject Name
Date/Time
Location
Contact information (name/department/phone/email)
Deadlines (photo/video due date)
Purpose for photo/video (intended use)
Any additional directions, including a list of "must have" photos or video clips needed
Priorities
Requests are prioritized based on the availability of the University Videographer/Photographer and in agreement with Marketing and University Communications coverage objectivess. These include:
major campus-wide events, programs and activities
marketing and promotional photos
campus news photos
notable campus supporters: alumni, donors
Videography/photography services may be provided subject to staff availability for:
department events, programs and activities
student life activities
faculty and staff portraits
News & Marketing Videos
The Office of Marketing and University Communication produces short news and marketing videos depicting University people, places and events. Most subjects in the video are interviewed by Marketing and University Communication staff and prompted with questions. Questions and responses are edited to produce a "TV news-like" story and "B-roll" is often included to show viewers scenes of what is being discussed.
Staff and Faculty Portraits
If the University Videographer/Photographer is not immediately available for individual portraits, faculty and staff portraits are taken several times a year at scheduled photo shoots. Please dress professionally in business attire. Contact Daniel Moore at moored@uwgb.edu for availability or to verify dates and times for the portrait shoots.
Additional Resources
At times, student photography interns may be available for events and to assist the University Photographer. Additionally, freelance photographers may be arranged at the requesting department's expense for events where the University Videographer/Photographer is unavailable.
Requesting files
Electronic files will be provided upon request, however, further photo finishing services (printing, matting, framing, etc) are not offered by this office.
Image and Photo Policy
Please see our image and photo policy for information on use of stock photography, image permission release, photo credit, and requesting photos.