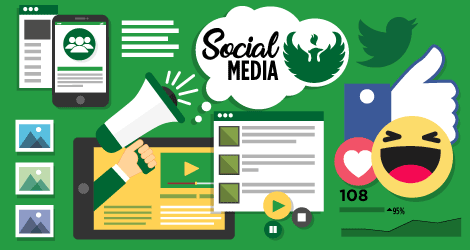 Offering expert advice to help you strategically further your reach and develop community through online engagement.
Social Media Consulting
Our experienced social media team is available as a resource to existing and forthcoming University-affiliated social media presences. It is important to consult with Marketing and University Communication before creating a social media presence to ensure you follow University policies and maintain brand integrity. Once accounts are set up, Marketing and University Communication can be a great resource for best practices and strategy.
Before creating a social media presence
When creating a social media presence for your organization, department, academic program or office, consider:
Does an account already exist?
Do you have frequent enough content or would you be better served posting your content to an existing social media presence?
Do you have the resources (mainly time) to maintain communication via your social media presence?
Are you familiar with or willing to learn about the platform?
By creating a social media presence, you should be prepared to maintain it and keep it updated as well as respond regularly to comments, questions and other notifications. A social media site that is rarely tended by its owners, or doesn't respond to users, leaves a poor impression.
If you are creating a new University social media presence, please contact Jena Richter Landers, Social Media Specialist.
Helpful hints for set-up and beyond
Keep confidential matters private. Be aware that all University and legal guidelines, such as FERPA, are also applicable in the social media space.
Monitor your presence for abuse by visitors. Use these guidelines to determine what is appropriate for user contributions on the page. 
If you make an error, be up-front about your mistake and correct it quickly. If you choose to modify an earlier post, make it clear that you have done so. If someone accuses you of posting something improper, deal with it quickly.
Social media is not a replacement for standard forms of media; it is simply another platform of communication that we can use to increase the public's awareness of UW-Green Bay and all it has to offer.
Engage with social media users, other UW-Green Bay programs and community partners when possible.
Contact Jena Richter Landers, Social Media Specialist, to ensure your presence meets brand standards.
View UW-Green Bay social media presences on the University's Department Directory. To have your department's social media added to the directory, contact Web Development staff.
Make sure account administration/log-in information is shared by more than one employee, as to prevent loss of access in turnover.