Janet Bonkowski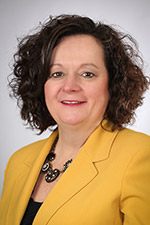 Director of Communications and Marketing
Office

CL 820

Phone

920-465-2527

Email
Janet Bonkowski joined UW-Green Bay March 1, 2016. She came to the University from Schneider National Inc. where she served as Public Relations Manager, overseeing all public relations for one of the nation's largest transportation and logistics companies. She was with Schneider since January of 2005 and brought with her more than 20 years experience in strategic planning, marketing and public relations with businesses and non-profit organizations.
The Denmark, Wis. native has been a member of Denmark State Bank's Board of Directors since 2009. From 1997 through 2004, she worked for The Goltz Seering Agency, Green Bay, as the director of public relations.
Janet provides strategic vision and leadership for the University's integrated communications, public relations and marketing efforts as they support student recruitment, retention and fundraising at UW-Green Bay. Her position oversees communication planning, media and public relations, publications, event marketing, branding, social media, web communications, multi-media productions, marketing plans, graphic styles and advertising. She supervises a staff of six in the University's Office of Marketing and University Communication. She also serves as the public relations spokesperson for UW-Green Bay, and advises Chancellor Gary L. Miller and his leadership team on public communication strategies and messaging. She also manages campus crisis communication.
Education: B.A. Journalism and Political Science, University of Wisconsin-Madison