A picture representing the wave properties is already provided. No further picture is necessary.
and are closely related quantities, and the relationship is given through the wave equation: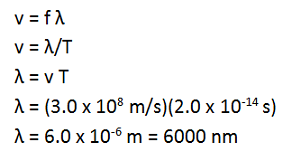 The wavelength of this light wave is 6000 nm.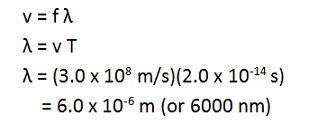 As long as you recognize that period and frequency are inverses of each other, and that they are closely related to the wavelength of a wave, this is a straightforward single-step problem. Be careful not to assume that the graph shows wavelength directly--make sure to always read the axis.
Visible light has wavelengths from about 400 to 700 nm. This is a longer wavelength. If you check the electromagnetic spectrum, you will see that this is in the infra-red range.