A & W Ponds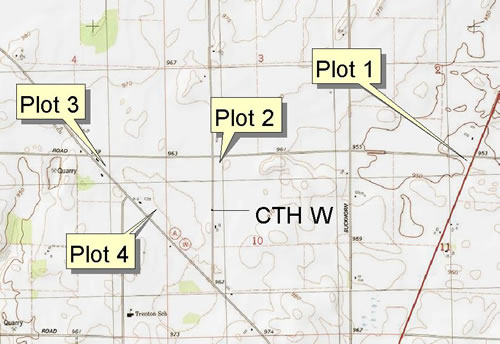 Site Directions: See page 45 of Wisconsin Atlas and Gazetteer. Beaver Dam is to the south; the town of Fox Lake is to the northwest. From the intersection of Breezy Point Rd and Hwy 151, watch for flooded fields along Breezy Point Rd.(plot 1), then watch for flooded fields (plot 2) along CTH W and fields/ponds as you go southeast along CTH A from Breezy Point Rd.
Site Description: Ponds and flooded fields west of Hwy 151 and Horicon Marsh. Visibility of shorebirds is fair (50-80%) to good (>80%) depending on habitat conditions, with site stability variable, again depending on habitat conditions. There are four observation points (plots). Shorebird surveys will take 1-2 hours.
Longitude: -88.8371
Latitude: 43.5238
Stability: Fair
Visibility: Fair to good
Current Coverage: Volunteers needed.
Sampling Periods: APR 30 to MAY 30, AUG 15 to SEP 30.
Survey Protocol: Survey the wet meadows and flooded fields from the roadside. Please avoid parking or viewing near the farmhouse along County Highway W since the farmhouse resident has expressed concerns about birders nearby. Record the number of each species observed, being careful not to double-count a species. Record all species observed during 1-3 10-minute observation periods per plot. If more than one 10-minute observation period occurs per plot, indicate each 10-minute period separately.
Species and Peak Numbers: 28+ shorebird species can be observed, including all plovers, Red Knot, White-rumped Sandpiper, Baird's Sandpiper, Stilt Sandpiper, Western Sandpiper, Buff-breasted Sandpiper, Ruff, dowitchers and godwits, and Wilson's and Red-necked Phalaropes.
Local Contact: Larry Michael (920) 485-2936 / lm.hmbc@powerweb.net.