Big Eau Pleine Reservoir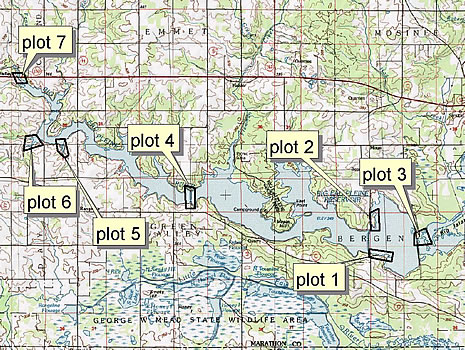 Site Directions: See page 64 of Wisconsin Atlas and Gazetteer. From I-39 take the Hwy 34 exit. Follow Hwy 34 west then south to Co Hwy C. Follow Co Hwy C west to CTH O. For Plot 1, turn north on O for 1 mile until you reach a boat landing on the east side. Plot 2: Continue north on O to Basswood lane. On the east side of O is an extensive mudflat which is plot 2. Plot 3: Turn right (east) to Dam Road. Follow Dam Road south to the dam. This is plot 3. Plot 4: Retrace your steps from O back to C. Follow C west (right) to CTH S. Take S north until it crosses the reservoir. This is plot 4. Plot 5 & 6: Return to C and continue west until Rangeline Road. Follow Eau Pleine Road west to plot 5 where it crosses the southern tip of the reservoir and plot 6 where it again crosses the southwest end. Plot 7: Continue on Eau Pleine Road to CTH M. Follow M north (right) to Balsam Road. Take Balsam Road east until it crosses the north end of the reservoir.
Site Description: Big Eau Pleine Reservoir comprises 6,670 acres with over 60 miles of shoreline. It is located just north of the George W. Mead State Wildlife Area. It is located in southern Marathon County in central Wisconsin. In an average year, the reservoir is full between early spring and mid-July. At this time, water is drawn down for the Wisconsin River. Drawdown varies from 2-20 feet. Extensive mudflats are created with large drawdowns resulting in excellent shorebird habitat. Visibility of shorebirds is fair (50-80%) to good (>80%) depending on water levels. Site stability is variable depending on water conditions. Seven plots (see bleow) have been delineated; surveying all of these sites will take 3-4 hours.

Longitude: -89.7991
Latitude: 44.7392
Stability: Fair
Visibility: Fair to Good
Current Coverage: Volunteers needed.
Sampling Periods: APR 30 to MAY 30, AUG 15 to SEP 30.
Survey Protocol: Survey all sites from the road; see Directions above for each of 7 survey plots (observation points). Record the number of each species observed, being careful not to double-count a species. Record all species observed during 1-3 10-minute observation periods per plot. If more than one 10-minute observation period occurs per plot, indicate each 10-minute period separately.
Species and Peak Numbers: Around 30 species have been observed including both godwits, Red Knot, both dowitchers, Stilt Sandpiper, and Red-necked Phalarope.
Local Contact: Tom Meier (715) 457-6771 / meiert@dnr.state.wi.us.