Horicon Marsh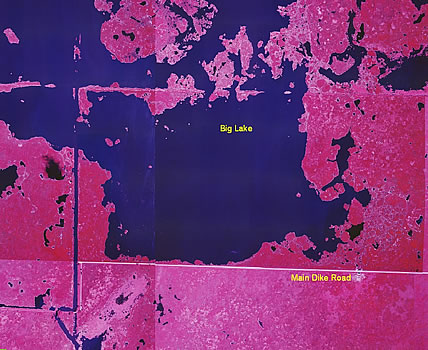 Site Directions: See pages 37, 38, 45, and 46 of Wisconsin Atlas and Gazetteer and map above. From south of Waupun on Hwy 157, take Hwy 49 east 5.1 miles to plot 1 on south side of Hwy 49 and just west of Stumpf Road.
Site Description: Horicon Marsh is located in northern Dodge and southern Fond du Lac counties in southeastern Wisconsin. This is a national wildlife refuge with public viewing usually along Hwy 49 and the main dike road. There is no access allowed on adjoining dikes. The main dike currently offers good opportunities for shorebird watching due to a drawdown of water levels. Water levels will be returned to normal when the current management project has been completed.

Longitude: -88.6219
Latitude: 43.6167
Stability: Fair
Visibility: Fair
Current Coverage: Volunteers needed.
Sampling Periods: APR 30 to MAY 30, AUG 15 to SEP 30.
Survey Protocol: Survey the Big Lake area from the western end of the Main Dike Road. Record the number of each species observed, being careful not to double-count a species. Record all species observed during 1-3 10-minute observation periods per plot. If more than one 10-minute observation period occurs per plot, be sure to indicate each 10-minute period separately.
Species and Peak Numbers: Several thousand shorebirds have been observed on occasion, with around 30 species recorded. Uncommon to rare species include: American Avocet, Black-necked Stilt, Marbled and Hudsonian Godwits, Baird's and White-rumped Sandpiper, Ruddy Turnstone, Red Knot, Ruff, Buff-breasted Sandpiper, and Red-necked Phalarope. Expected species include: Semipalmated Plovers, both Yellowlegs, Solitary Sandpiper, Semipalmated Sandpiper, Least Sandpiper, Pectoral Sandpiper, Dunlin and both Dowitchers.
Local Contact: Wendy Woyczik (920) 387-2658, ext. 13 / Wendy_Woyczik@fws.gov.