Ken Euers Nature Area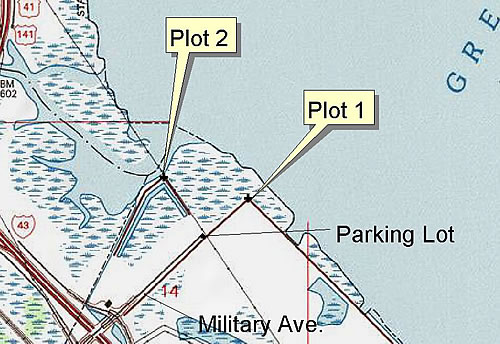 Site Directions: See page 67 of Wisconsin Atlas and Gazetteer. East of Hwy 43 and Hwy 41 interchange. Follow Hurlbut St. 1.1 miles east from Atkinson Drive to the stop sign at Military Avenue and turn right. Take the gravel road to the end and turn left into the parking lot. Take the trail that leads west from the parking lot and goes around the impoundment.
Site Description: A 69-acre bayshore wetland (formerly called Bayport Marsh or Atkinson Marsh) on the southwest shore of Green Bay in Brown County, Wisconsin. The area is bordered by the Fox River on the east and Duck Creek on the west. Hwy 43 cuts across the area's southern edge. Visibility and site stability will depend on water levels. Shorebird surveys will take approximately 1 hour at 1 plot (observation point). Shorebirds can be viewed on mudflats located generally to the north of the parking lot. Two plots are delineated, one to the northwest of the parking lot, and one to the northeast of the parking lot. Both are approximately 300m from the parking lot.

Longitude: -88.03665
Latitude: 44.5778
Stability: Variable
Visibility: Variable
Current Coverage: Volunteers needed.
Sampling Periods: APR 30 to MAY 30, AUG 15 to SEP 30.
Survey Protocol: Survey plot (site) from the corners of the dike. Record all species and number observed at each plot during 1-3 10-minute observation periods. If more than one observation period per plot occurs, indicate each observation period separately.
Species and Peak Numbers: Hundreds of shorebirds can be observed if conditions are optimal; 30+ species may be observed, including: Willet, Marbled Godwit, Baird's and White-rumped Sandpipers, and Wilson's and Red-necked Phalaropes.
Local Contact: Ty and Ida Baumann (920) 391-3675 / tyba@ci.green-bay.wi.us.