Long Island-Chequamegon Point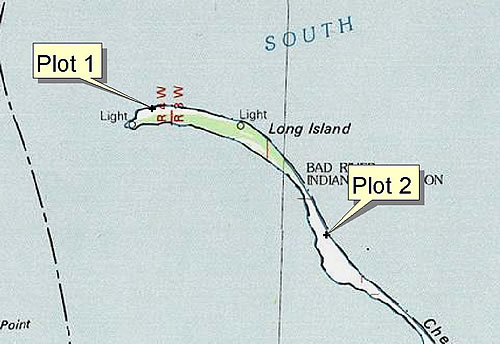 Site Directions: See page 103 of Wisconsin Atlas and Gazetteer. Access is by motorboat or canoe only and must be coordinated with the National Park Service and the Bad River Band of the Lake Superior Ojibwa.
Site Description: Long Island/Chequamegon Point is a sandspit complex located in Ashland County on the south shore of Lake Superior in northern Wisconsin. The National Park Service owns and manages the island; the Lake Superior Band of the Bad River Ojibwa owns and manages most of Chequamegon Point. Shorebird visibility is good (>80%) and conditions fairly stable along beach and swale habitats. There are 2 survey plots (observation points)—one at the north end of the island, and one at the south end. Consult with Julie Van Stappen to determine locations of plots. Allow for 3-4 hours for surveys.

Longitude: -90.7425
Latitude: 46.6991
Stability: Fair
Visibility: Good
Current Coverage: Volunteers needed.
Sampling Periods: MAY 07 to JUN 07, JUL 30 to SEP 07.
Survey Protocol: Consult with Julie Van Stappen due to variable weather and management considerations. Record all species observed and number at each plot during 1-3 10-minute observation periods. If more than one observation period occurs per plot, indicate each observation period separately. Note on Map #1 each plot, if different than those delineated.
Species and Peak Numbers: 30+ species of shorebirds may be observed here, including both godwits, both dowitchers, Willet, Whimbrel, White-rumped Sandpiper, Western Sandpiper, and Piping Plover, with Least Sandpiper and Sanderling most commonly observed.
Local Contact: Tom Doolittle (715) 682-7123, ext. 1552 / wildlife@badriver.com; Julie Van Stappen (715) 779-3397, ext. 211 / Julie_Van_Stappen@nps.gov.