Nine Springs Lagoon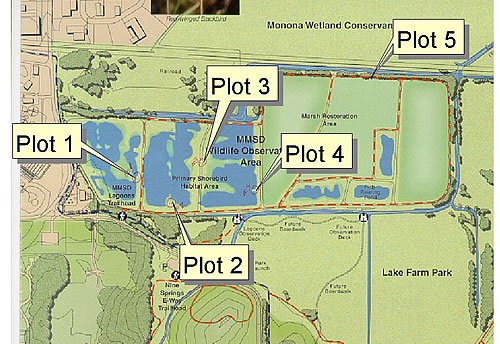 Site Directions: See page 36 of Wisconsin Atlas and Gazetteer. Take Rimrock Road (South Towne Road) exit south of Hwy 12 and 18; go about 1.0 mile to Moorland Road, turn left, go about 0.25 miles to the Nine Springs E-Way to the trailhead and park there (see map). Cross Moorland Road to the Capitol City Bike Trail and walk west (left) to the NNSD Lagoons Trailhead, where you can enter the property. Proceed to plots 1-4 as indicated on map #1. Map provided courtesy of Dave Taylor and the Madison Metropolitan Sewerage District.
Site Description: The Madison Metropolitan Sewweage District (MMSD) Wildlife Observation Area is 140 acres (56 hectares) in size. The western portion includes 3 ponds that are managed specifically for shorebirds during spring and fall migration, when water is pumped out of the ponds exposing mudflats (plots 1-4).
Longitude: -89.3207
Latitude: 43.0210
Stability: Fair
Visibility: Good
Current Coverage: Volunteers needed.
Sampling Periods: APR 30 to MAY 30, AUG 15 to SEP 30.
Survey Protocol: Walk to each of the four plots delineated on the map and record the number of each species observed, being careful not to double-count a species. Record all species observed during one-three 10-minute observation periods per plot. If more than one 10-minute observation period occurs per plot, indicate each 10-minute period separately.
Species and Peak Numbers: Around 30 species may be observed during the survey period, including: Piping Plover, Semipalmated Plover, Golden and Black-bellied Plovers, both Yellowlegs, Willet, Ruddy Turnstone, Wilson's and Red-necked Phalaropes, Sanderling, Semipalmated Sandpiper, both dowitchers, Common Snipe, White-rumped, Western, Baird's, Pectoral, and Stilt Sandpipers, Dunlin, Marbled and Hudsonian Godwits, and Red Knot.
Local Contact: Karen Etter Hale (608) 255-2437 / masoffice@mailbag.com.