Peshtigo Point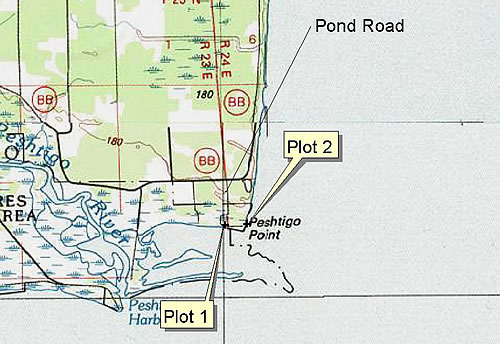 Site Directions: See page 68 of Wisconsin Atlas and Gazetteer. From the city of Peshtigo, take CTH B south from Hwy 41 to CTH BB. Continue south on BB for 7.9 miles. Turn right on Pond Rd. and follow this road all the way to Winegar Pond, a distance of about 0.6 miles. The road will continue beyond the parking area. Park in the parking area and walk to the end of the road to view many exposed bars, when water levels are low. Open sand flats may extend about 0.25 miles out.
Site Description: Sandspits that extend into Green Bay on the western shore. Visibility and site stability is variable depending on water levels, but is generally fair (50-80%).

Longitude: -87.6461
Latitude: 44.9912
Stability: Variable
Visibility: Variable
Current Coverage: None needed.
Sampling Periods: MAY 07 to JUN 07, AUG 01 to SEP 15.
Survey Protocol: Walk to vantage point from car to observe site (plot 1), and then walk east around point to plot 2. Record all species and number observed at each plot during 1-3 10-minute observation periods. If more than one observation period occurs at each plot, indicate each observation period separately.
Species and Peak Numbers: 25+ shorebird species may be observed, including Willet and Whimbrel.
Local Contact: Judith and Wendel Johnson DK / pwuid@hotmail.com.