South Rice Lake, Mead Wildlife Area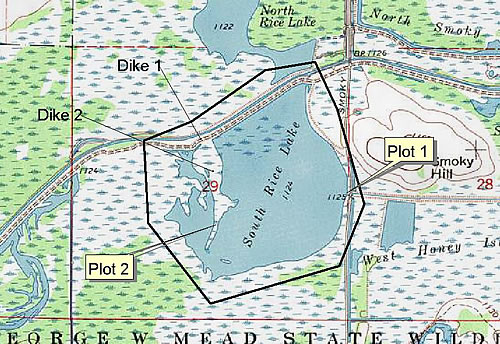 Site Directions: See page 64 of Wisconsin Atlas and Gazetteer. From I-39 take the Hwy 34 exit (between the cities of Stevens Point and Wausau). Go west on Hwy 34 for 4.5 miles to CTH C. Travel south on CTH S to Smokey Hill Road. Plot #1 is __ miles south on west side of Smoky Hill Road. For the adventurous, park at the dike about a half mile north of Plot #1 and walk southwest along the dike (Dike #1) to a second dike (Dike #2) that runs directly south toward the south end of South Rice Lake. Walk south toward the end of the dike to Plot #2.
Site Description: A large waterfowl impoundment within the George W. Mead State Wildlife Area in north-central Wisconsin. Consult contact Tom Meier (below) for number and location of survey plots (observation points). Visibility and site stability will depend on water levels. Shorebird surveys will take 1-2 hours.

Longitude: -89.8989
Latitude: 44.6818
Stability: Variable
Visibility: Variable
Current Coverage: Volunteers needed.
Sampling Periods: APR 30 to MAY 30, AUG 15 to SEP 30.
Survey Protocol: Record all species and number observed during 1-3 10-minute observation periods at each plot. If more than one observation period per plot occurs, indicate each observation period separately.
Species and Peak Numbers: Hundreds of shorebirds can be seen if conditions are optimal. 25+ species have been observed, including both godwits, Red Knot, Ruddy Turnstone, Stilt Sandpiper, and Wilson's and Red-necked Phalaropes.
Local Contact: Tom Meier (715) 457-6771 / meiert@dnr.state.wi.us.