The purpose of the Wisconsin Breeding Bird Atlas is to:
provide a permanent record of the bird species breeding in the state.
provide baseline data for monitoring future changes in bird populations.
assess habitat needs of breeding species and document species diversity.
document abundance and distribution of rare and endangered species.
provide comparisons with historical studies.
complement existing or on-going avian monitoring programs in Wisconsin and in nearby states.
assist international efforts to preserve neotropical migratory birds.
help in land use planning by local and state governments.
assist industry in preparing environmental impact assessments.
bring together birders in an exciting new cooperative venture!
Data collection for the Wisconsin Breeding Bird Atlas (WBBA) began the spring of 1995 and ended the summer of 2000. The culmination of this project, "Atlas of the Breeding Birds of Wisconsin", is available for purchase from the Wisconsin Society for Ornithology.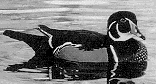 Wisconsin Breeding Bird Atlas
Data Management Center
University of Wisconsin-Green Bay
Cofrin Center for Biodiversity
Green Bay, WI 54311
920-465-2545 / davisj@uwgb.edu

The WBBA is a project of the Wisconsin Society for Ornithology.